Group exhibition 'Seen Unseen', different responses to 'landscape' featuring five artists and the work of internationally recognised poet Alice Oswald. Curated by Melanie Miller Opening June 27 2018.
Long and Ryle, 4 John Islip Street, London, SW1P 4PX
http://www.longandryle.com/contact-us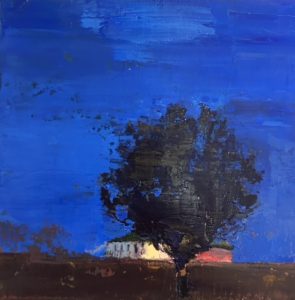 'Inky Night', oil on linen 20 x 20 cm 2018
'Clump', 27 x 18.5 cm, mono print, 2017, has been accepted to the Royal Academy of Arts Summer Exhibition and can be seen in Room V.
The exhibition is open June 13- August 2017, Royal Academy of Arts, Piccadilly, London W1J 0BD.
https://www.royalacademy.org.uk/exhibitions-and-events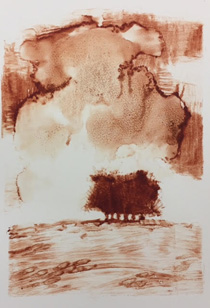 'Big Garden'
March 11 – April 2 2017
Group exhibition at Campden Gallery, Chipping Campden, Gloucestershire.
https://www.campdengallery.co.uk/home.php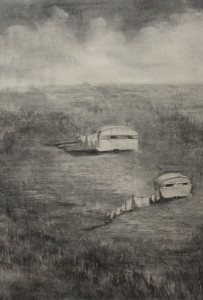 Wash Day, charcoal on paper 2015
'Triforium'
The Discerning Eye prize winners' exhibition.
Tuesday 4 – Saturday 15 October 2016. Triforium Space, Temple Church, London EC4Y 7BB.
Opening hours vary so please check before travelling: http://www.templechurch.com/wp-content/uploads/2016/09/October-Opening-Times.pdf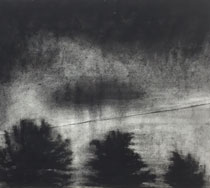 Pudding Cloud 2016 Charcoal on paper
11-30 June 2015
Private View Thursday 11 June 6-9 pm
Day View Saturday 13 June 4-7 pm
Map http://goo.gl/maps/19dbG
Exhibition Website http://twofoldexhibition.wix.com/artlondon Twitter @TwofoldExhibition
Selected for ING Discerning Eye exhibition
Mall Galleries London SW1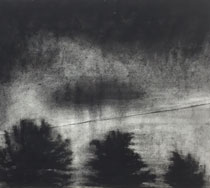 17-27 November 2015
Twofold Charcoal Drawings Exhibition
Soledad Bustos and Anna Gardiner
Natalie Galustian Rare Books 22 Cecil Court London WC2N 4HE
11-30 June 2015
Private View Thursday 11 June 6-9 pm
Day View Saturday 13 June 4-7 pm
Map http://goo.gl/maps/19dbG
Exhibition Website http://twofoldexhibition.wix.com/artlondon Twitter @TwofoldExhibition
Selected for The Royal Academy Summer Exhibition 2015
Black House charcoal on paper 84 x 60 cm 2015
Royal Academy of Arts Burlington House Piccadilly London W1J 0BD
8 June -16 August 2015
https://www.royalacademy.org.uk/plan-your-visit